Post-harvest quality assurance
Inspect incoming lots and assess melon quality parameters in cold storage, ripening rooms, and distribution centers.
Crop management and harvest timing
Accurately measure ºBrix, melon's primary quality & maturity attribute, in seconds for data-driven harvest planning.
Crop breeding and research
Rapidly collect internal melon quality data for high-throughput phenotyping, breeding, and analytical research..
Valuable data, without the waste.
Quickly and non-destructively gather melon quality data using state-of-the-art near-infrared technology.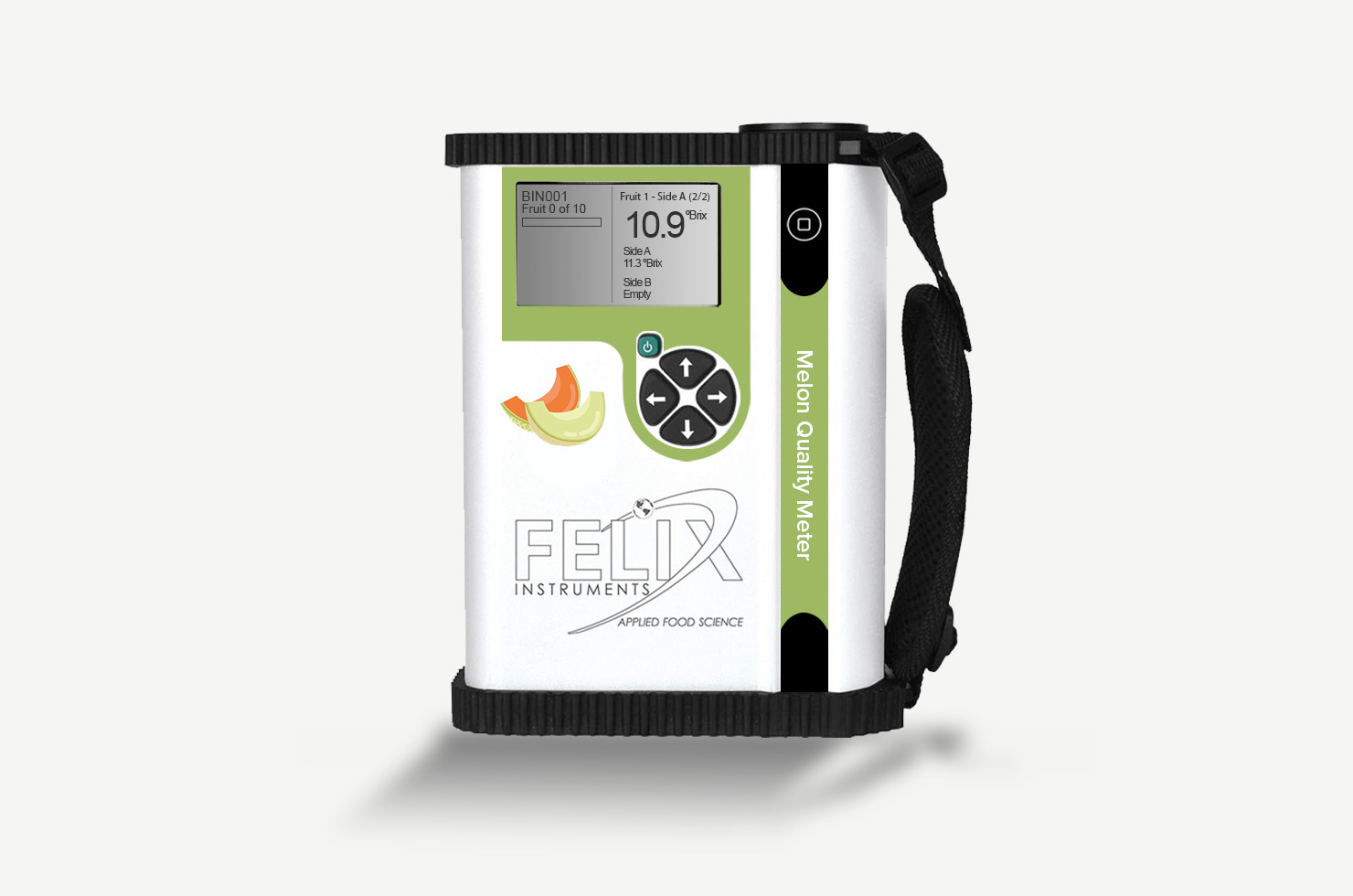 Lightweight & portable
Ergonomic and lightweight design allows for easy data capture, whether on site or in the lab.
Powerful spectrometer
The Melon Quality Meter's powerful 640-1050 nm spectrometer captures melon quality data with speed and precision.
WIFI connectivity
Easy data transfer via WIFI and SD card for later analysis.
The power to predict
Equipped with robust chemometric models for trait prediction in Honeydew, Cantaloupe, and like varieties.
Anti-glare LCD screen
Designed with the field use in mind, the Melon Quality Meter's backlit LCD screen is easily viewed in any lighting conditions.
Measure melon maturity in seconds

500+ Measurements
With over 500 measurements on a single charge and rechargeable 3400 mAh replacement batteries included, you'll never be lacking in predictive power.

Data-driven harvest management
Remove the guesswork and accurately predict crop harvest dates with data-driven insights.

User-friendly design
The Melon Quality Meter's intuitive user interface is designed for easy adoption by technicians at all levels of training.

Durable construction
Heavy-duty aluminum construction protects the device from wear and tear without sacrificing weight.

7 data points in one scan
Collect raw data, reflectance, absorbance, 1st derivative spectra, 2nd derivative spectra, GPS, date & time all in one scan.

Integrated crop mapping
Compatible with the free, interactive harvest mapping software FruitMaps, see your harvest data where it matters most – in your orchard.
Does this product come with a warranty?

All devices from Felix Instruments – Applied Food Science come with a 12-month warranty at the point of sale. The warranty covers repairing and replacing defective parts of the instrument that were manufactured directly by Felix Instruments. The warranty does not cover wear and tear, neglect, misuse, accident, or excessive deterioration. Further, unauthorized repair and alteration by an unauthorized party voids the warranty. More information can be found in the operation manual of your instrument.
Is the Melon Quality Meter waterproof?

The Melon Quality Meter is not designed to be waterproof and should not be used underwater. The Melon Quality Meter is designed to be water-resistant. Use in light rain is fine, however, there are electronics inside of the Melon Quality Meter that can be damaged from water entering the instrument, so it is not recommended to use the Melon Quality Meter during heavy rainfall.
What are the operating conditions of this product?

The recommended operating temperature range for the Melon Quality Meter is 0 – 50° Celsius.
What varieties can I measure with the Melon Quality Meter?

The Melon Quality Meter is equipped with robust chemometric models for trait prediction in Honeydew, Cantaloupe, and similar varieties.
Do I need to build my own melon model?

No! The Melon Quality Meter is preloaded with a robust model and fully calibrated when it leaves out production facility.

Have additional questions?
Click the link below to speak with one of our staff scientists about your specific application.
Rapid, non-destructive melon quality measurement.
Quickly & non-destructively measure ºBrix in melons.
Product support
At CID Bio-Science we are committed to delivering the highest level of customer support and service. Need help? Click the button below to browse our resources and help guides or get in touch with our expert support staff.
Request a quote for a F-751 Melon Quality Meter
Pricing and all related materials will be sent directly to your inbox.