Resources & Support
Select a product below to view support articles, videos, manuals, and obtain the latest updates.
Specifications
| | | |
| --- | --- | --- |
| Spectrometer: | | Carl Zeiss MMS-1 Spectrometer |
| Range: | | 310-1100 nm |
| Spectral Sample Size: | | 3 nm |
| Spectral Resolution: | | 8-13 nm |
| Light Source: | | Xenon Tungsten Lamp |
| Lens: | | Fused silica, coated to enhance NIR |
| Shutter: | | White painted reference standard |
| Display: | | Sunlight visible transflective LCD screen |
| PC Interface: | | Connectivity: USB & WiFi |
| Data Recorded with Each: | | Raw data, reflectance, absorbance, first derivative |
| | | |
| --- | --- | --- |
| Measurement: | | Absorbance, second derviative absorbance |
| Power Source: | | Removable 3100 milliamp hour lithium-ion battery |
| Battery Life: | | 1600+ measurements |
| Data Storage: | | Removable 64 GB SD card |
| Body: | | Heavy-duty powder-coated aluminum body |
| Dimensions: | | 7.1″ x 4.75″W, 1.75″ thick |
| Weight: | | 1.05 kg |
Theory of Operation
The F-750 Produce Quality Meter uses near-infrared (NIR) spectroscopy, as developed at Central Queensland University, to estimate quality metrics such as dry matter, Total Soluble Solids (TSS or brix), titratable acidity, and color.
Interactive Demo
The F-750 has a wide range of applications, from determining optimal harvest timing by assessing fruit maturity, to providing an objective analysis of produce quality of fruit in packing houses and upon import.
WEBINAR: Using Near-Infrared Analysis in Breeding Programs, Harvest, Post-Harvest & Packaging Innovation
Working like a high-powered flashlight, the F-750 sends particles of light into a commodity, then measures the NIR light interactance with molecular components inside of the commodity to quantify user-selected traits.
Applications for the F-750 Produce Quality Meter
The F-750 is a handheld, fully integrated system, allowing users to operate it out in the orchard or inside the QA lab. Its simple, intuitive user interface makes it easy for anyone to use, while its model building software makes it customizable and versatile.
Current Version
AppBuilder and F-750 Firmware Update Tool
FIRMWARE INSTALL INSTRUCTIONS
SOFTWARE VERSION: 2.2.5
SOFTWARE VERSION: 2.2.4
SOFTWARE VERSION: 2.1.7
STARTER APPS FOR FIRMWARE 2.0.1- 2.1.7
F-750 MANUAL
Previous Version
What version of software do you need?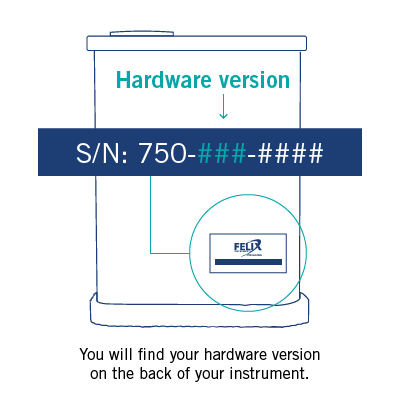 | Hardware Version | Firmware Version |
| --- | --- |
| Firmware update tool built into AppBuilder software | Firmware update tool built into AppBuilder software |
| 011 – 017 | 1.2.0.13102 |
| Version 010 | 1.2.0.7041 |
| 009 and lower | 1.1.0.5702 |
Model Builder
Firmware Update Tool
Current Firmware Update tool
The current firmware for hardware version, 018, can be updated from within AppBuilder. Choose the Device menu > Update Firmware. Be sure to have the devices battery at or above 25%, and connected to your computer.
Legacy Firmware
For Firmware updates to hardware 017 and before.
Follow these instructions to update the firmware on your
F-750 Produce Quality Meter.
Updates may include bug fixes, interface improvements, and new features.
Firmware versions 1.2 and greater are only compatible with Windows 10.
F-750 Model Builder Software
Software runs on a PC and allows users to create new models and calibrations from F-750 training set data and destructive reference values. Software provides full statistical analysis of model fitness.
System Requirements: Windows 7, 8, 8.1 or 10. Standard SD cards require SD card reader or USB 2.0 port and compatible adapter. Wireless SD cards require WiFi access. No internet connection required.
** Please note: user accounts on the Windows platform with a space in their name may experience issues using the ModelBuilder software
Data Viewer
This program allows you to view measurements and training sets collected with the F-750 Produce Quality Meter. It can also export the data to a .csv file which can be opened with a spreadsheet program for easier manipulation and viewing. Data Viewer checks for updates upon start up and is highly recommended to update whenever an update is available.
Release Notes
Firmware Update Tool: v1.2.0.13102 (Apr 2019)
Firmware Update Tool: v1.2.0.7041 (October 2017)
Data Viewer version: v1.2.0.76 (May 2019)
Firmware Update Tool: v1.1.0.5702 (Jan 2016)
Model Builder version: v1.3.0.192 (Apr 2019)
Model Builder version: v1.3.0.177 (Mar 2017)
Does this product come with a warranty?

All devices from Felix Instruments – Applied Food Science come with a 12- month warranty at the point of sale. The warranty covers repairing and replacing defective parts of the instrument that were manufactured directly by Felix Instruments. The warranty does not cover wear and tear, neglect, misuse, accident, or excessive deterioration. Further, unauthorized repair and alteration by an unauthorized party voids the warranty. More information can be found in the operation manual of your instrument.
Is the Produce Quality Meter waterproof?

The Produce Quality Meter is not designed to be waterproof and should not be used underwater. The Produce Quality Meter is designed to be water-resistant. Use in light rain is fine, however, there are electronics inside of the Produce Quality Meter that can be damaged from water entering the instrument, so it is not recommended to use the Produce Quality Meter during heavy rainfall.
What are the operating conditions of this product?

The recommended operating temperature range for the Produce Quality Meter is 0 – 50° Celsius.
How do I determine model quality?

Several factors should be viewed when assessing the quality of a model. Read more here.
How do I use the Produce Quality Meter to create models?