February 27, 2021 at 2:02 am | Updated February 27, 2021 at 2:02 am | 8 min read
"Working in a remote area of Ghana, access to a versatile Portable Ethylene Gas Analyzer provided a great improvement in quality and variety of data generated in a study on shelf-life characteristics of 10 sweet potato genotypes in northern Ghana. Currently, final draft of the research is being processed. A conference paper with title "Effect of Fertilizers and Curing Methods on Yield and Shelf-life of Candidate Sweet Potato (Ipomoea batatas (L.) Lam) Genotypes in Northern Ghana" was presented at the 20th Annual General Meeting of the Ghana Institute of Horticulturists, November 11-12, 2020, UDS City Campus, Tamale, Ghana."
-Dr. Issah Sugri
About the Photos
Partnering with the Council for Scientific and Industrial Research – Savanna Agricultural Research Institute, Issah Sugri and his team are using the F-900 Portable Ethylene Analyzer (formerly CI-900) to glean crucial insights into important commodities in Ghana.
Armed with this data, the team is able to advise farmers and policymakers on low-cost methods to decrease postharvest losses and increase economic prosperity in the region.
Subscribe to the Felix instruments Weekly article series.
Listen to the full interview here, or check out the Q&A below!
About Issah Sugri
Dr. Issah Sugri holds a Ph.D. in Postharvest Technology from Kwame Nkrumah University of Science and Technology, Ghana. He is currently a senior research scientist and head of the Upper East Region Farming Systems Research Group of CSIR-SARI. In addition to his research into developing appropriate postharvest technologies for dry cereals, fruits, and vegetables cultivated in norther Ghana, he has developed extension leaflets, technical guides, brochures, policy briefs, and training manuals on best postharvest practices for crops such as maize, rice, soybean, cowpea, sweet potato, tomato, pepper, and onion. These materials provide essential information for various agencies and agricultural service providers in Ghana.
In line with the vision of the CSIR-SARI, he works to achieve a Savanna belt of Ghana where food security and wealth are secured through demand-driven agricultural research. At the forefront of this research is the aim to develop and introduce improved technologies that will enhance productivity and livelihoods.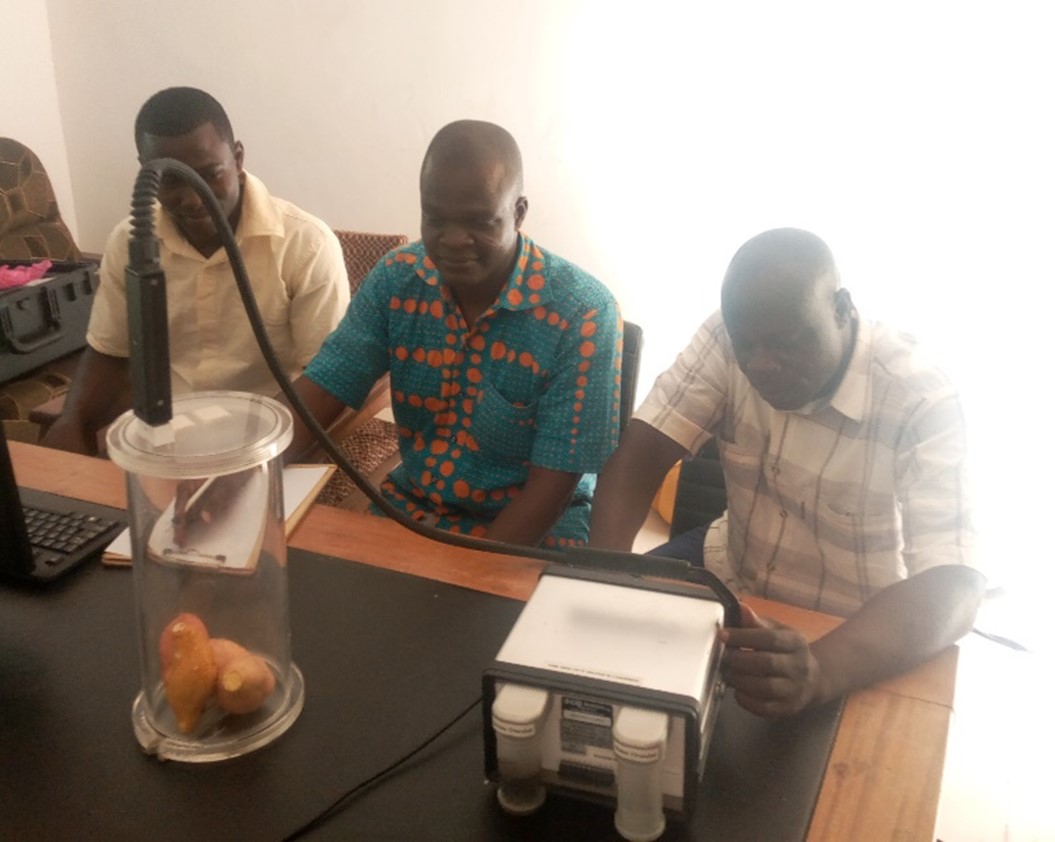 From far left, Mr. Moses K. Bidiji, Dr. Issah Sugri and Mr. Jonathan Agalwini undergoing rehearsals on how to operate the Portable Ethylene Analyzer. Ten sweet potato varieties were harvested at two harvest maturities (90 days and 110 days) and stored for 6 months to assess their shelf-life. Data sets were generated on weight loss, incidence of sprouting, incidence of decay and ethylene rate. Ethylene rate of the tubers stored was monitored at weekly intervals during the period using a Portable Ethylene Analyzer.
Q & A – Helping Farmers Avoid Postharvest Losses

—–
Can you tell me about any current research projects you are working on and how you are able to utilize our instruments for that research?
Here at CSIR-SARI, I do postharvest research in fruit and vegetables in root and tuber crops. So, I work on crops such as sweet potato, frafra potato, a little on tomatoes and pepper and some fruits also. So basically what we do with them is to see how we can extend their shelf life for the consumer.
A lot of postharvest losses occur here because the farmers do not have good storage facilities or cold chain facilities to keep their produce. So after harvest, within 3 to 4 days you may have high postharvest losses. So basically my work here is into researching into low-cost technologies that can extend the shelf life of most of these fruit and vegetables. We look at low-cost methods such as how to use ripening, temperature, and passive evaporative cooling methods.
So, we are doing work on sweet potato with the International Potato Centre (CIP) of the CGIAR. They have a branch in Ghana. So, our work on sweet potato had to do with Professor Ted Curry. He acquired the instrument from you. But because we are doing our collaborative work, he gave the instrument for me to do the postharvest work on sweet potato for the organization. But not only for that, we have been using it for other crops, and also for student practical work over the last two years.
—–
I know that typically sweet potatoes are fairly low producers of ethylene, what kind of findings are you having with these sweet potatoes in Ghana?
Yes, most root and tuber crops, like you said, produce low levels of ethylene. But this is add-on data we take because we take other data also for our purposes.
Because farmers handle the produce under ambient conditions, high respiration rate and the rest could affect the nutritional quality. So we want to have an idea of how the crop is respiring, and using these nutrients in respiration. If you have an idea of the ethylene rate and the rest, you will be able to tell the farmer that if you lower temperature at least to this level, you will reduce respiration rate and you will preserve a lot of nutrients for the consumer.
So basically, for the farmer this is how it is understood. But for our purposes, as I said, we want to have an idea of how the crop is respiring for our backup data. Basically to have an idea of the respiration rate at ambient, and for root and tuber crops it's very minimal, but for backup data you need that one. But for the farmer, the gut message for him is if you are able to store the commodity at lower temperatures, you reduce ethylene rate, you reduce respiration rate, and you reduce the rate at which the commodity is respiring. And it means, basically, that you conserve more food resources for the consumer ahead.
—–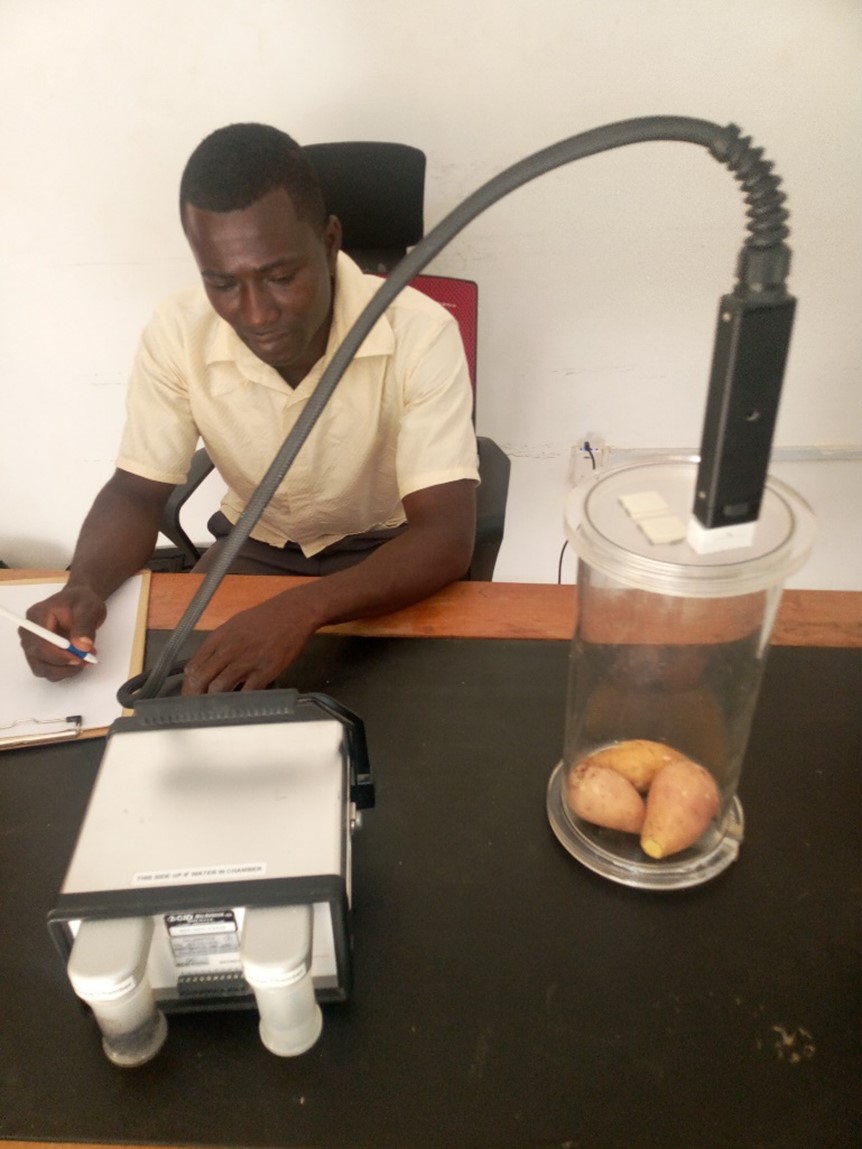 Mr. Moses Kombat Bidugi, collecting data on respiration rate of sweet potato
Is there a specific temperature that you are aiming to store these sweet potatoes at, or is it more of a range that you're looking at for ideal storage conditions? What are the farmers doing in terms of technology and implementation to store at those conditions?
So, most of the farmers do a simple passive evaporative cooler where they store their potato at a cool corner of a room and they water intermittently. So, we do use that as our control. But there is also a sand bound method where you can immerse or insert the potatoes in dry sea sand just to lower the temperature. If you also water, though you may have some sprouting, the shelf life is extended a little. But as an add-on technology we added just an ordinary refrigerator, and we also used some bio-organic "pesticide." Basically neem. They were actually botanicals, because we don't allow pesticides in postharvest, so we use botanicals such as neem—azadirachta indica, so the oil from neem. And it's organic, and is safe with numerous produce. These we stored for 3 months. So that was an add-on we did. We wash the tubers in neem oil and store it in the sand bound method compared to what the farmers do who just store it without treating, without doing anything, in a cool corner of the room with intermittent watering.
So these are the technologies we can adjust to reduce the ambient temperature so that the commodity may last longer. Under ambient conditions here, sweet potato if we store for more than 4 weeks you will get more than 40 percent losses. But with what we did, after 5 months we were able to get around 20 to 30 percent losses.
—–
You mentioned other vegetables and fruits as well. Is there any other fruit that you're going to focus your attention on after the work you're doing with sweet potatoes currently? Are you going to shift focus to a different specific commodity?
Currently in Ghana we are in the dry season where we do irrigation farming, and around this time they harvest a lot of tomato and chili pepper. Currently we are doing a study to look at the effect of different fertilizer rates on yield of chili pepper, tomato, and okra.
So, what we'll be doing, beginning the first week of March will be looking at the effect of fertilizer—different rates of fertilizer—on the shelf life of chili pepper, okra, and tomato using the same equipment. Because we need to know their respiration rate also. So beginning March this is what we'll be doing with that equipment.
For background, these are important fresh vegetables in Ghana, but they also have high postharvest losses. Most often in the dry season farmers grow them here, and it is a major source of income for these farmers. But access to cold chain facilities generally is still a problem. So, generally what we do is to look at low-cost options or technologies to extend their shelf life.
So, for tomato we have done a lot of work on the effect of ripening stages on shelf life. We have demonstrated to the farmers that if you harvest at the "turning" to "pink" stages, you can extend shelf life by almost two weeks without refrigeration, and this is an extreme low-cost method that the farmers are adopting.
However, they also use different fertilizers, so in what we are doing currently, we have varied the fertilizer levels. Nitrogen levels at 0, 20, 60 and 80 kilograms per hectare to see the effect of fertilizer on yield and subsequent shelf life. And this will go for okra, chili pepper, and tomato.
—–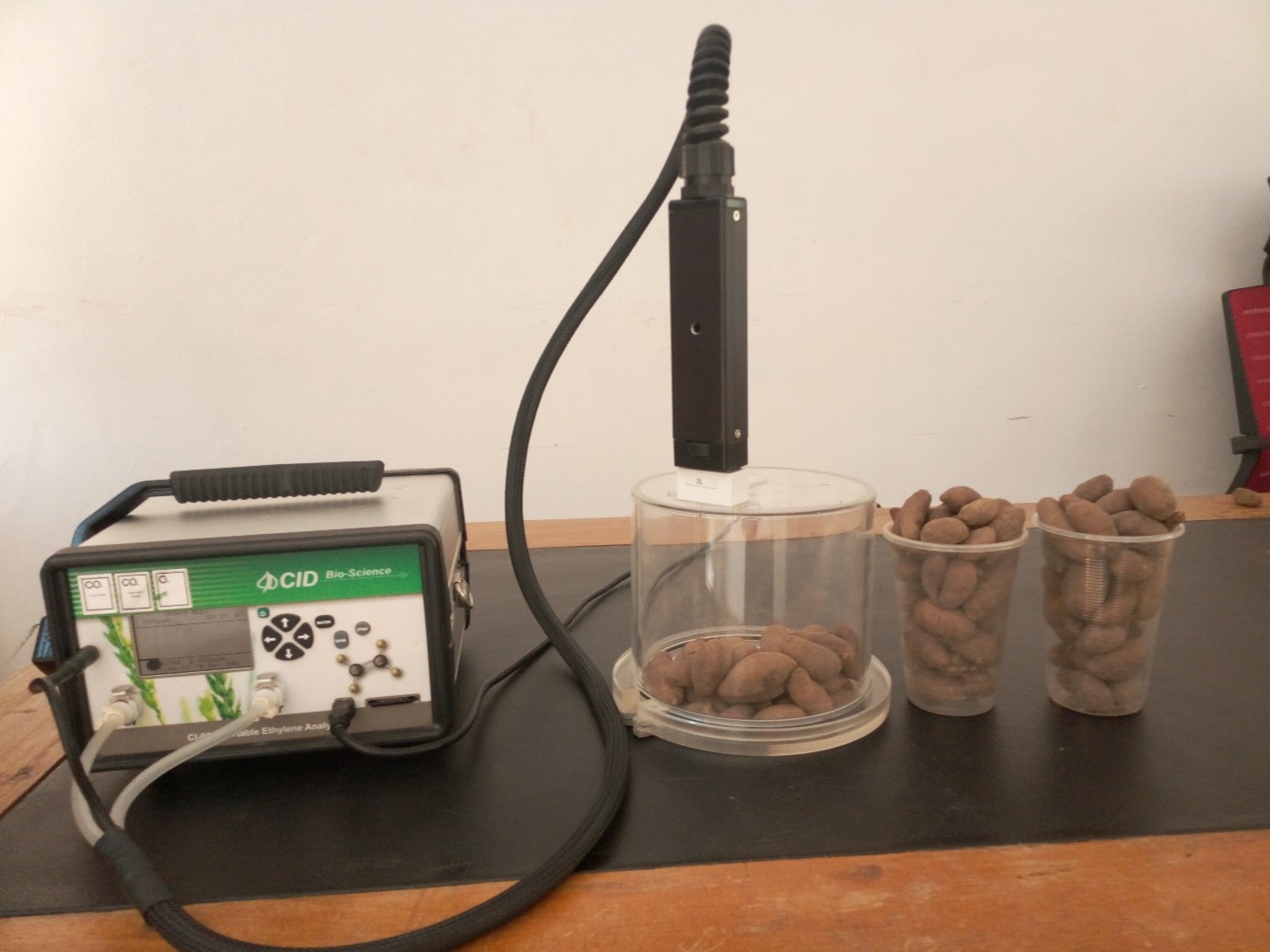 What other important crops are there in Ghana that you think that this kind of research would benefit?
Other crops that would be useful are actually mango, pineapple, orange—or citrus—and yam. These are major perishable crops also in Ghana, but they have high export potential.
—–
Do you think that, because of your success with increasing shelf life and reducing waste, you will extend that research to these other important commodities? Or do you think that your research will shift focus after this round with the tomatoes and the peppers?
They are potential areas, but I do not do research on those other crops—but we could work on them. My other colleague at the university – Kwame Nkrumah University of Science and Technology – two years ago he was using the equipment, and he used to train a lot of students using that equipment and other gadgets as well. That university is based in southern Ghana, and that area is more rainfed. They do a lot of fruit and vegetable production because they have rainfall throughout the year. So, there they worked on citrus, pineapple, a lot on orange, and I think most other fleshy fruits and vegetables, like avocados and the rest. They were able to do research on that. But where I am working in northern part of Ghana, it's a tropical zone and these—the crops I mentioned—are those that are here.
—–
I really appreciate you taking the time to talk to us today about this. It sounds like you're doing some amazing work with these farmers. I hope you continue to have success and I look forward to hearing about some of the results that you're getting from your study with peppers and tomatoes this upcoming spring and summer.

Okay, thanks a lot, and I will say we enjoy using your equipment. Because we are field workers and we like low-cost equipment. So we're very cost-sensitive. If you are manufacturing equipment particularly for use by those of us in tropical or sub-Sahara Africa. Secondly, we need very portable equipment that you can easily send to the field and work, and some of your equipment is very good in that area. So low-cost, very portable, and accuracy is also very important. If you ever have other equipments for us, you are most welcome. You can donate them to me or to the institute. We'll be very happy.
And good data is good for planning, it's good for the farmer, it's good for policy. It's good for everybody. So if you have good equipment to be able to work with, with good information the rest of the world will be happy. Thank you.
Request a quote for a Felix Product
Pricing and all related materials will be sent directly to your inbox.