What is ethylene?
---
---
---
If you work in postharvest, chances are you're familiar with ethylene—C2H4—a gas produced by aging fresh produce, rotting vegetation, and different byproducts like smoke and exhaust. 
Why is ethylene on the postharvest professional's radar? Our infographic below explains (click it to see a bigger version)!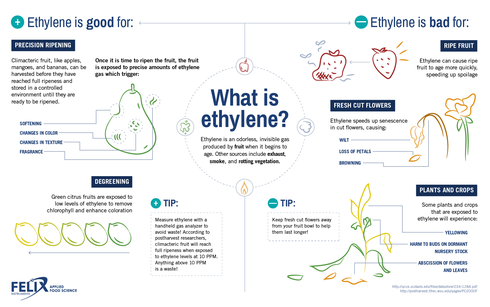 Ethylene can be a blessing or a curse. QA managers use scrubbers and ventilation systems in controlled storage to remove ethylene, slowing down ripening and preventing spoilage in fresh produce during storage and transit. Ethylene can be damaging, but it is also an important postharvest tool. Ripening room personnel apply ethylene using tools like catalytic generators in air tight rooms to initiate the ripening process in climacteric fruits—those that can be picked when they reach physiological maturity and then ripened off of the plant. Citrus professionals use ethylene to remove chlorophyll and enhance coloration.
Ethylene is a big deal for the postharvest industry, yet often the tools and techniques employed for removing or applying ethylene are imprecise or faulty, the result of which can be spoiled produce or wasted ethylene gas.
Luckily, we designed a line of easy to use, handheld ethylene analyzers to help professionals make precise measurements of ethylene in a variety of ranges and environments, and to best manage their phase of the cold chain. See our full line of gas analyzers here.
---
Judith Edwards
Marketing Manager
1-360-833-8835 Ext. 208
---