Australian mango season kicks off with help from the F-750 Produce Quality Meter!
---
---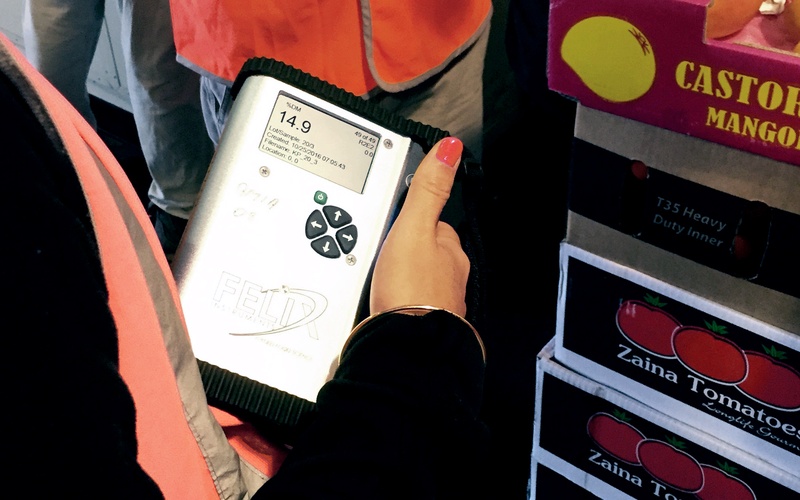 ---
After several months of warming up, the Australian mango season will begin in earnest next week. Retailers are excited, consumers are hungry, and the Australian Mango Industry Association (AMIA) is ready to provide more support to growers and distributors than ever before.
For many years mango professionals have relied primarily on brix measurements—taken by cutting the fruit, extracting juice, and measuring brix levels with a refractometer—to gauge quality and assess value. Now, after validation testing by researchers at Central Queensland University, the AMIA has encouraged growers to utilize the F-750 Produce Quality Meter as the primary method of objectively evaluating maturity and quality. The F-750 is able to take rapid and non-destructive measurements which reduce waste and help ensure mango quality from the time that fruit sets to when it is sold at market. While there are no regulatory requirements for dry matter or brix levels, the AMIA has published dry matter and brix standards for each Australian mango variety on the market, which can then be referenced by wholesalers to determine product value.
To support the utilization of the F-750, the AMIA has stationed assessors at mango markets around the country who can provide quick and non-destructive dry matter readings for interested growers and wholesalers.
As the 2016-2017 mango season in Australia gets underway, we're excited to follow progress and share additional details on the adoption of the F-750 by the Australian mango industry.
---
Judith Edwards
Marketing Manager
1-360-833-8835 Ext. 208
---